Call us at (650) 856-8833 or email us at Sales@StcValve.com.
Solenoid Valve Specifications and Dimensions: 2L170-500 Series
Specifications
Valve Model
2L170-1/2
2L170-3/4
2L200-1
2L300-1 1/2
Valve Type
2 Way Normally Closed (NC)
Action
Pilot Piston
Cv (Orifice)
4.8 (17mm)
4.8 (17mm)
12 (20mm)
20 (30mm)
Operating Pressure
7 to 232PSI
Operating Temperature
23 to 356°F (-5 to 180°C) with PTFE Seal
Port Size
1/2"
3/4"
1"
1 1/2"
Body Material
Brass
Seal Material
PTFE
Coil Protection Insulation Class
H Class IP65
Coil Duty
100% ED
Coil Power
30 to 40W
Electrical Connection
DIN
Voltages / Tolerances
12VDC, 24VDC, 24VAC, 110VAC, 220-230VAC (50-60Hz).
Voltage Tolerances: +10%-5% for DC, +10%-15% for AC.
Services
Air, Gas, Liquid, Vacuum, Steam
2L Series 2/2 Direct Lift Piston Normally Closed Solenoid Valve:
This valve is a two-way, normally closed, internal Pilot Piston solenoid valve and requires minimum 7PSI differential operating pressure. As shown in the diagrams below, when the coil is de-energized (left diagram), the pilot plunger and pison sit on their respective orifices. The working medium flows through a tiny "bleed orifice" and pressurizes the cavity above the piston - this system pressure, along with the spring force, seals the valve. When the valve is energized, the pilot plunger allows the working medium to flow through the pilot orifice. This releases the pressure above the diaphragm and causes the incoming pressure to push it off of the main orifice, allowing the working medium to flow fully through the valve. Since the bleed orifice is dimensionally smaller than the main orifice, the system pressure cannot rebuild on the top of the diaphragm as long as the main orifice remains open. The working medium and flow direction are indicated in purple in the diagrams.
ALL standard valves are supplied with Continuous Duty Coils of the proper class of insulation for the service indicated on the valve. It is normal for the coil temperature may become hot after being energized for extended periods. Smoke or burning odor indicates excessive coil temperature and the power should be disconnected to the coil immediately.
SERVICE LIFE: The service life of the solenoid valve depends on the operating conditions such as pressure, temperature, type of medium, and the voltage.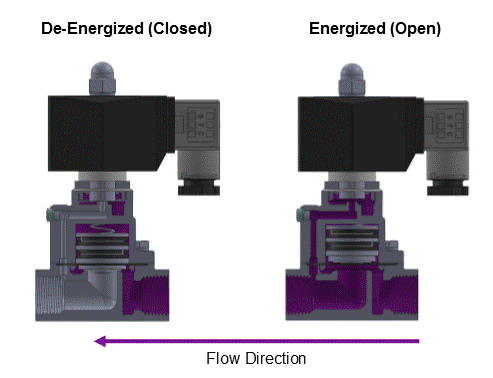 Model: 2L Series
Part No.
Port Center Line
to Top
Width
Height
Length
Port (NPT)
2L170-10
125
42
146
82
3/8
2L170-15
125
42
146
82
1/2
2L170-20
125
42
146
82
3/4
2L200-25
136
52
162
91
1
2L300-35
148
74
185
111
1 1/4
2L300-40
148
74
185
111
1 1/2
2L500-50
176
86
223
163
2
Electrical Coil Connections
To Connect a DIN Coil:



Remove the Philips screw from the plastic housting & unplug from the DIN coil.
Use the removed screw to push the terminal block out of the plastic DIN housing.
Note the "1", "2", and ground "⏚" symbols.

For DC DIN Coils, connect "1" to your positive lead and "2" to your negative lead.
For AC DIN Coils, connect "1" to your HOT lead, "2" to your NEUTRAL lead, and "⏚" to your ground lead, if required.



To Connect a Grommet Coil:



For DC Coils, connect the red wire to your positive lead and the black wire to your negative lead.
For AC Coils, connect the black wire to your HOT lead and the white wire to your NEUTRAL lead.
For Coils provided with Molded Cables, the color of the wire indicates the type of lead:

GREEN = Ground Wire
BLUE = Positive or HOT Wire
BROWN = Negative or Neutral Wire