Call us at (650) 856-8833 or email us at Sales@StcValve.com.
Normally Open Solenoid Valve Specifications & Dimensions: 2SO030-040 Series
Specifications


Valve Model
2SO030-1/4
2SO040-3/8
Valve Type
2 Way Normally Open (NO)
Action
Direct Acting
Cv (Orifice)
(3mm)
0.6 (4mm)
Operating Pressure
Vacuum to 60PSI (Option: Vacuum to 100PSI)
Port Size (NPT)
1/4"
3/8"
Body Material
Stainless Steel
Seal Material
NBR (Option: Viton)
Coil Protection Insulation Class
H Class IP65
Coil Duty
100% ED
Coil Power
28W
Electrical Connection
DIN
Voltage / Tolerances
12VDC, 24VDC, 24VAC, 110VAC, 220-230VAC (50-60Hz)
Tolerances: +10%-5% for DC, +10%-15% for AC
Service
Air, Liquid, Oil, Water, Vacuum
2SO030-040 Series: 2/2 Direct Acting Normally Open Valve
The 2SO040 series normally open solenoid valve is direct acting, it does not require a minimum operating differential pressure. As shown in the diagram below, when the coil is energized, it pushes the solenoid plunger downward to close the main valve orifice and closes the valve. When the coil is de-energized, the spring forces the plunger upward to open the valve main orifice and opens the valve.
ALL standard valves are supplied with Continuous Duty Coils of the proper class of insulation for the service indicated on the valve. It is normal for the coil temperature may become hot after being energized for extended periods. Smoke or burning odor indicates excessive coil temperature and the power should be disconnected to the coil immediately.
SERVICE LIFE: The service life of the solenoid valve depends on the operating conditions such as pressure, temperature, type of medium, and the voltage. Normally the STC solenoid valves are reliable for more than 5 million cycles.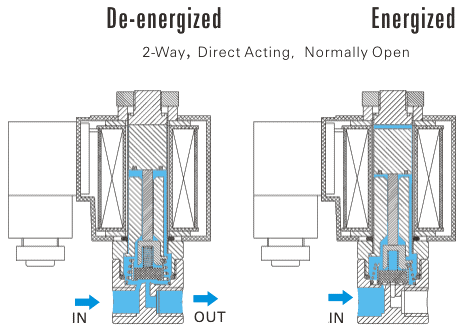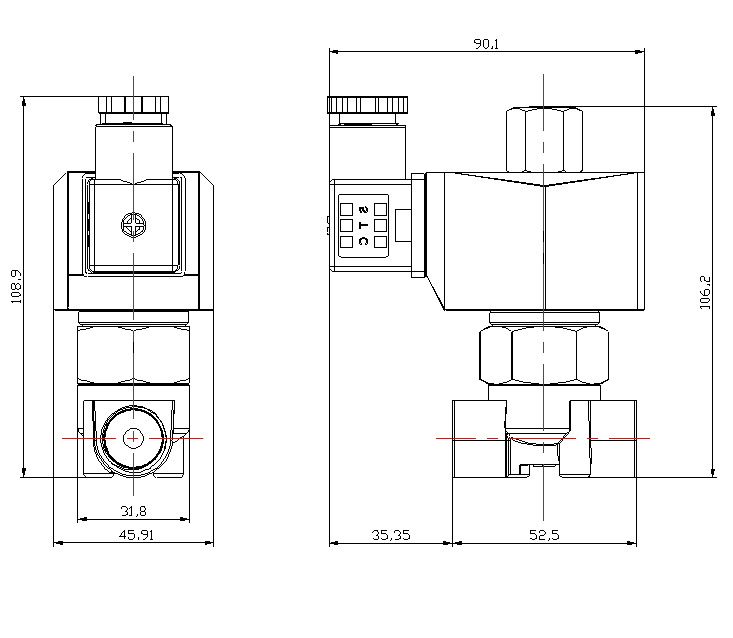 Electrical Coil Connections
To Connect a DIN Coil:



Remove the Philips screw from the plastic housting & unplug from the DIN coil.
Use the removed screw to push the terminal block out of the plastic DIN housing.
Note the "1", "2", and ground "⏚" symbols.

For DC DIN Coils, connect "1" to your positive lead and "2" to your negative lead.
For AC DIN Coils, connect "1" to your HOT lead, "2" to your NEUTRAL lead, and "⏚" to your ground lead, if required.



To Connect a Grommet Coil:



For DC Coils, connect the red wire to your positive lead and the black wire to your negative lead.
For AC Coils, connect the black wire to your HOT lead and the white wire to your NEUTRAL lead.
For Coils provided with Molded Cables, the color of the wire indicates the type of lead:

GREEN = Ground Wire
BLUE = Positive or HOT Wire
BROWN = Negative or Neutral Wire